Welcome to the page of
Andrew Ivimey
$3,004.27
Raised to Goal of
$3,000.00
Achievements

$100

$650

$1,000

$1,750

$2,500

$4,000

$6,000

$10,000

Self Donor
Strava
User Provided No Response
User Provided No Response
I'm cycling 610KM (379 Miles) from Toronto to Montreal for a good cause. Why not donate while you're here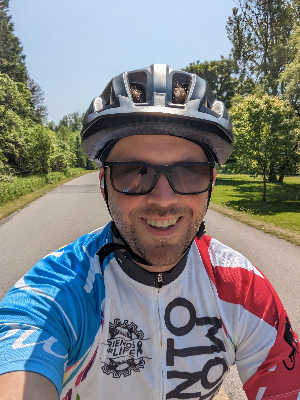 Hey friend,



I'm Andrew Ivimey, I'm a podcaster, comedian, actor, but you probably know that because I'm guessing that's how you got here (I'm also happy to be wrong though). Thanks for visiting the page, which I assume means you're considering donating, so a preemptive thank you for that. You're awesome!


I'm going to be participating in Friends for Life, a 6 day, 610KM ride from Toronto to Montreal on August 6-11th, 2023. The event is in support of people living with HIV/AIDS, people who need food, wellness care, peer support or just to be in a place that is welcoming and safe for them.


So it'd be amazing if you showed some love and support by donating however much you can. I know everybody's budget is different, and money can be tight (no judgement here) but every little bit adds up and in the end makes a huge difference.
If you want to reach out or find out more about me I'm on most social media @Ivimey and you can visit www.andrewivimey.com

Thank you! :)


View More
Achievements

Endurance Fundraiser
Endurance Fundraiser
Fundraising Honour Roll
Your post kids K & S
$102
Leaside Orthodontic Centre
$102